[vc_row][vc_column][vc_column_text]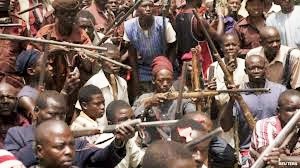 Pain, sorrow and agony, has become companions for six families in Zamfara State, whose breadwinners were brutally murdered in cold blood. On Wednesday, May 13, a group of self appointed cross border law enforcement undertakers in Kebbi State, popularly known as Yan Sa Kai stormed Akawo village in Bukkuyul Local Government Area of Zamfara State, and dealt a fatal blow on the families of Alhaji Nasiru D-Komo, Shehu Budi, Umari Jaji, Shamsu Umaru, Malam Gyade and Babuga Niga
The victims, aged between 35 and 56, were dragged out of their homes in the presence of their wives and children at about 6pm on the ill-fated day and whisked to the neigbouring Kebbi State where a horrific theatre was enacted with professional dexterity.
Though born to different parents with individual hopes and aspiration, they shared same fate and walked a tortuous path to the great beyond, on suspicion by the Yan Sa Kai of complicity in the abduction of the District Head of Akawo village in Zamfara State penultimate week.
One after the other, the six captives -the oldest of them 56-year-old Umaru Jaji, were led like cows to a killing field; a slaughter slab of sorts, and their throats slit. To be sure the men were stone dead, their assailants waited patiently for the last drop of blood from each of them.
With the bloody mission accomplished, they made a triumphant exit from the scene of horror, leaving the corpses for the police to recover and handover to families of the deceased for burial.
Mohammed Shehu, a Superintendent of Police (SP) and spokesperson for the Zamfara State police command could not be reached for comments on the incident at the time of filing this report, but a senior officer at the command headquarters who pleaded anonymity confirmed the development. He said detectives at the State Criminal Investigation Department (SCID) Gusau, were investigating the case.
[/vc_column_text][/vc_column][/vc_row]