[vc_row][vc_column][vc_column_text]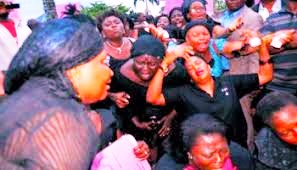 At age 12, Ogaga Oghene Onosigho, a cheerful and charming girl, had dreamt to become a top-flight professional. But she also wanted to be a woman of virtue, a path she had chosen to follow in her sojourn on earth. That resolve, which for her had become a vow, was on Saturday May 16, subjected to test by two men from the pit of hell.
One of the men, who turned out to be harbingers of death and sorrow, had approached her for an illicit affair, which she turned down for obvious reasons. First, her dad, Apostle Isaac Onosigho was a clergyman; an apostle in the temple of God. Second, she was conscious of her resolve to be righteous. For this, she paid the supreme price on Tuesday, May 16.
On this ill-fated day, Ogaga, in company with her elder sisters, had set out of their Otoro Road residence at Erawha-Owhe, Isoko North Local Government Area of Delta State, for their farm at Ini Aybedi axis of the community when she suddenly had a stomach upset and was asked to return home. When her sisters eventually closed at the farm and got home at dusk, the preteen wasn't found.
It was a traumatic experience for her family as efforts to trace her whereabouts drew blank for four days. On Saturday, May 16, her father reported her missing at the local police station and a frantic search led to the recovery of corpse at a bush in the community. The body of the bright young girl was found naked and already decomposing. She had been raped and strangled.
Following the discovery, the police evacuated and deposited the corpse at Owhelogbo General Hospital for autopsy and promptly arrested two suspects, one of whom is said to have asked the deceased to be his girlfriend. They were alleged to have accosted and threatened to deal with her for refusing to befriend one of them, two days before she got missing.
The police said homicide detectives at the State Criminal Investigation Department of the Delta State police command are cracking the nuts to unmask perpetrators of the crime, as her distraught father cries for justice.
[/vc_column_text][/vc_column][/vc_row]