[vc_row][vc_column][vc_column_text]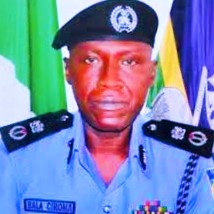 Is Corporal Guda Kichime, a serving police officer attached to the operations department of the Federal Capital Territory (FCT) police command a crime-fighter or gunrunner? This is the puzzle detectives at the Criminal Investigation Department (SCID) of the Enugu State police command are trying to unravel.
On Friday, May 15, Kichime was caught at about 12.30pm with an unusual baggage at Inyi Enugu, a border community between Benue and Enugu states. Found in his possession were three rifles, comprising one assault rifle bearing breach number 05890 with 30 rounds of live ammunition and two other rifles with 49 rounds of live ammunition as well as three magazines.
Scudnews exclusively gathered that he was promptly arrested, disarmed and interrogated following which he identified himself as a police officer with Force Number 493399 attached to FCT police command.
Sources said while Kichime's identity might be genuine, detectives are probing into how he came about the three rifles and his mission at the border community with recurring incidents of communal strife. "Even if he was on legitimate duty, he will only be issued one rifle. How he came about the three rifles in his possession is what is baffling", said a senior police officer who does not want his name mentioned.
Anjuguri Manzah, a Deputy Superintendent of Police and spokesperson for the FCT police command said he had not been briefed on the development when contacted for his comments. "How will I know how he came about the three rifles", he queried when prodded further, adding: "I have not been briefed on the incident".
[/vc_column_text][/vc_column][/vc_row]