[vc_row][vc_column][vc_column_text]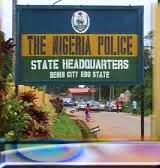 A police officer enacted a dramatic scene recently in Benin City, Edo State capital, after he dropped his rifle on a table to ease himself elsewhere and returned to discover the weapon had disappeared.
Rather than securing an AK-47 rifle with breech number 8221 issued him before going to defecate, Sergeant Osaigbovo Elvis with Force Number 446930 did the unimaginable when he was deployed on night duty on Tuesday, May 12, within the precincts of the state police command headquarters.
When he returned and couldn't find his rifle, he reported the incident and a search party was immediately organized to comb the entire premises of the state police command headquarters in Benin, but it was fruitless. Elvis was said to have become restless as the world seemed to have come to an end for him.
But he was lucky two days later, precisely on May 14, when operatives of the command's Anti-Kidnapping Squad and the Intelligence Response Team of the Inspector General of Police (IGP-IRT) acting on a tip-off, reportedly stormed an Indian hemp rendezvous located at Arousa Street, off Sakponba Road in Benin City and recovered the missing weapon after arresting two suspects whose identities could not be ascertained at the time of filing this report.
A senior police officer in the state who expressed shock on the incident said Elvis was expected to face an Orderly Room trial for negligence. The state police commissioner could not be reached for comments, but Scudnews learnt that detectives at the Criminal Investigation Department (SCID) of the state police command are investigating the case.
[/vc_column_text][/vc_column][/vc_row]