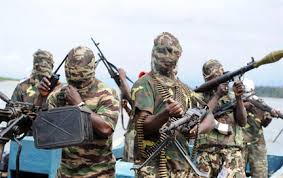 For 65-year-old Bona Ezeodo, Friday, May 15, will be indelible in his memory. It was a day the joy of moving in no distant time into a new home at Ezima Abakpa Nike, Enugu East Local Government Area of Enugu State evaporated from him with the speed of lightening and he came face to face with death.
It was like any other day when Ezeodo set out of his residence at Enugu Agidi, in company with his daughter Munachi, aged 25, to inspect his building under construction. While at the project site brimming with smiles in admiration of the architectural beauty, the devil suddenly struck at about 5.pm.
A gang of armed men charged at them with weapons raised menacingly above their shoulders. The uninvited guests did not wait a minute before whisking father and daughter in a waiting car on a trip that eventually ended literarily at the lion's den.
As they left, they abandoned Ezeodo's Toyota Sequiola Sports Utility Vehicle bearing number plate DA 535 ENU by the roadside. It was eventually recovered by the local police.
When their captors felt the coast was clear to turn the captives into automated teller machines, they contacted members of their family on mobile telephone, with a demand for payment of a ransom for the duo to regain freedom. That phone call elicited divine intervention, as the police retrieved the number for tracking.
Barely 24 hours after, at about 10pm the next day, the police stormed the kidnappers' hideout and rescued Ezeodo and his daughter unhurt after a ferocious gunfight at the dreaded Eziama Nike forest in Enugu State. However, the kidnappers escaped the security web and are reportedly being trailed by detectives at the Criminal Investigation Department (SCID) of the Enugu State police command.
It was indeed a lucky escape for father and daughter as they were reunited with family members, back from the lion's den without a loss.