[vc_row][vc_column][vc_column_text]
The House of Representatives on Friday summoned the Minister of Niger Delta Affairs Godswill Akpabio to appear before it by 11.am on Monday, July 20, to explain his role in the alleged N40billion contract scam currently under investigation.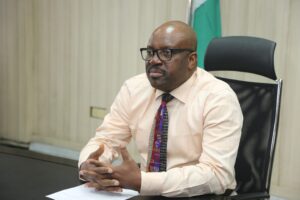 Also summoned are the acting managing director of the NDDC Interim Management Committee (IMC) Prof. Kemebradeikumo Pondei; managing director of Roadmap Nigeria Limited, and the managing director of Osmoserve Global Limited.
his followed the unanimous adoption of a motion to that effect by a member of the House of Representatives Committee of the NDDC during its public hearing on Friday, in furtherance of the ongoing probe of the interventionist agency.
Members of the resolved that service of the Notice of Summons to the affected persons should be made on the electronic and print media to avoid excuses of non receipt of service on time.
Chairman of the committee, Hon. Olubumi Tunji-Ojo (APC-Ondo) expressed the determination of the House to work assiduously for the interest of the Niger Delta people.
[/vc_column_text][/vc_column][/vc_row]