[vc_row][vc_column][vc_column_text]
A woman resident at Jaji Street, Kubwa, a suburb of Abuja, has emotionally revealed how her close friend had serially sold off her babies a few months after birth.
The woman who simply gave her name as Patience said her friend, Chinenye Eze, usually sold her babies between three to four months of delivery, and had consistently sold five of male and female, over the years.
She disclosed that Chinenye, also known as Elizabeth, had once requested that she named her price to conceal the secret, but she said being a mother, she was not unconscionable to continue aiding her in the ignoble trade by keeping sealed lips.
Patience spilled the beans after another baby deal struck by her friend on June 26, went awry. 25-year-old Chinenye had through the Social Welfare Department of the Federal Capital Territory Administration (FCTA) and an orphanage in Abuja, given out her last baby boy named Destiny for N350, 000, and allegedly turned around to blackmail those involved in the process in an attempt to extort more money.
Unfortunately, Chinenye's resort to extortion, which she allegedly perpetrated in connivance with suspected members of a baby trade syndicate, backfired in the case of her last baby and the bubble burst.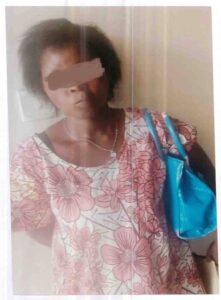 In the course of trading off five-month-old baby Destiny, Chinenye, who had contacted an orphanage in Kubwa, Abuja, to express her intention, was reportedly linked to officials of the Social Welfare Department of the FCTA, who took her before a Family Court to perfect the process.
In an affidavit dated June 26 and sworn to at the Family Court of the FCT sitting at Wuse Zone 11, Abuja, Chinenye affirmed that she was the biological mother of the baby boy whom she said, was born February 5, 2020. She stated her willingness to give up the baby to the FCTA for onward adoption to a successful applicant on grounds that the man responsible for the pregnancy had abandoned her and the baby and fled to an unknown destination.
"I want to forge ahead with my life and I don't have any means of taking good care of the baby, hence I decided to give up the baby to the government and undertake never to come for the baby again as long as I am alive", she further averred.
However, earlier in a handwritten agreement with an unnamed orphanage dated June 24, Chinenye, who claimed to be 23 years old, allegedly demanded a sum of N350, 000 in exchange for baby Destiny.
Part of the document read: "I got impregnated by a man named Patrick; he lives in Minna. The man said he did not want the baby and gave me N15, 000 to go away, that he didn't want the baby. I have given out my first baby before and this one, I can't take care of the boy so I want to give it out to anybody that will offer me N350, 000 to take care of myself. I will never come back to you again; I need help".
Ironically, a few weeks after handing over baby Destiny to officials of the FCTA Social Welfare Department and the unnamed orphanage at the Family Court in Wuse Zone 11, Abuja on Friday, June 26, Chinenye allegedly returned to the orphanage with a conditional request: to be given more money or she collects her baby which, Scudnews learnt, was already being processed for an interested foster mother by the FCTA Social Welfare Department.
Chinenye's action, according to sources, angered her friend, Patience, and prompted her to raise the alarm on her indulgence. However, while she said Chinenye, who she alleged to be a commercial sex worker, had sold five of her biological children at infancy, the Ogwu, Enugu State-born woman admitted selling only two in a document in possession of Scudnews.
"I had given my first born out to one orphanage in Kubwa", she admitted, but was silent on the amount the baby was sold. Unconfirmed reports however alleged that the deal fetched her N500, 000.
For raising the red flag, Patience, who hails from Akwa Ibom State, says her life is in danger. "One Ibo guy told me that I should be very careful; that if I don't take time, they are going to burn down the house we are living so that I and my baby will die. Now, I don't sleep in my house; I sleep with one of my primary school classmates at Biazi, I am not safe", she lamented.
To be sure, a drama of the absurd is playing out and only time shall tell when and how it would come to an end, perhaps when the security agencies step in for a probe.
[/vc_column_text][/vc_column][/vc_row]