[vc_row][vc_column][vc_column_text]
It was a bizarre spectacle for residents of Odorobu community in Patani Local Government Area of Delta State, when a couple allegedly doused their eight-year-old son with diesel- a petroleum product used as fuel, and set him ablaze.
The incident which occurred at noon on Sunday, August 2, has thrown the sleepy community into confusion, as the couple had yet to tell what prompted them to commit the act before they were arrested and whisked away by the police.
It was an agonizing journey to untimely death for the boy, Anthony Okpako, the eldest and only male child among four siblings, who watched him helplessly as he was consumed by fire on the ill-fated day.
Anthony, a primary three pupil of St. Joseph Nursery and Primary School, Odorobu, was oblivious that death was lurking at a corner when he raced to welcome his father who had been away from home for some days.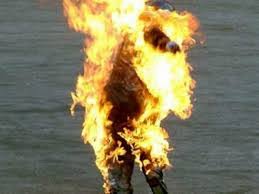 His dad, Okpako Joseph, a motor-saw operator, had been away in the forests, cutting and sawing timber to various sizes and shapes, a trade he had plied over the years.
Unknown to Anthony, his father had an unpleasant experience while working in the forest, and was also said to have been involved in an auto accident which he escaped unhurt while returning home in a commuter vehicle.
Sources in the community told Scudnews that when he arrived home, Okpako relayed his experiences to his wife, Hope, and expressed his suspicion of some spiritual attacks. He reportedly told his wife he had a feeling that evil forces were after his life.
Okpako had yet to settle down when his wife complained of their son's bad behaviour while he was away, prompting him to mete out jungle justice to Anthony in a most heartless and cruel manner.
When his father picked up a Bible and called him to sit nearby, Anthony never expected that the end had come for him. He walked up to his dad and sat close to him, perhaps, expecting to be pampered, offered the usual fatherly advice and protection. He was mistaken.
After binding his hands with a chain, Okpako quoted some verses from the Bible and preached to his son. When he was done with the sermon, he requested his wife to get him a keg containing diesel with which he allegedly doused Anthony and set him ablaze.
Scudnews learnt it was when the fire raged on his son that Okpako was jolted to a sudden realization of his crime and battled frantically to extinguish the flame. Unfortunately, the boy had been badly burnt.
Sympathizers rushed him to Ricko Clinic, a private health facility in the community, where he was given first aid and referred to an undisclosed hospital at Ughelli, headquarters of Ughelli North Local Government Area of Delta State.
Anthony, described as a promising and energetic boy, battled with death for a few days on the hospital bed but his strength eventually failed him and he succumbed. So sad!
Moments after his death on Sunday, August 9, Okpako, who was with his son at the hospital, was promptly arrested by the police and moved to Odorobu community, where his wife was also arrested in connection with the crime.
A senior police officer who does not want to be identified confirmed the incident to Scudnews. He said the couple had been transferred to the Criminal Investigation Department (SCID) of the state police command in Asaba, where homicide detectives are investigating the crime.
[/vc_column_text][/vc_column][/vc_row]