[vc_row][vc_column][vc_column_text]
Sunday Sodipe, the 19-year-old prime suspect in the serial killings in Akinyele Local Government Area Oyo State who escaped from police custody, has been rearrested by police operatives in Ibadan, the Oyo State capital, Scudnews authoritatively reports.
Sodipe, who escaped from custody at the divisional police headquarters at Mokola, Ibadan, at about 8.pm on Tuesday, August 11, was arrested at about 1.30pm on Sunday, August 23, igniting jubilation by officers and men of the state police command.
He had reportedly confessed to the serial killings which caused panic and fear among residents of Akinyele and other communities in Oyo State prior to his escape which triggered a rash of reactions and conspiracy theories from the public, with some rights activists handing an ultimatum to the Inspector General of police, Mohammed Adamu.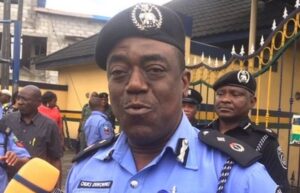 Following public outcry and suspicion on the circumstances of his escape, the IGP had deployed a crack team of police operatives to the state and also directed the commissioner of police in the state, CP Nwachukwu Enwonwu, to ensure the fleeing suspect was rearrested.
While the hunt for Sodipo intensified, three police officers at the Mokola police divisional headquarters including the Divisional Crime Officer (DCO), the Charge Room Officer (CRO) and the station guard on the day of his escape, an Inspector of Police, were arrested and detained over the incident.
Scudnews reliably gathered that while the CRO and station guard were undergoing Orderly Room trial, the disciplinary procedures were also initiated against the DCO.
It was further learnt that following the directive, police operatives spread a massive security net around the state in a bid to fish out Sodipo, resulting to his re-arrest 12 days after his escape from custody.
Efforts made to reach the Oyo State commissioner of police for comments of the development were unsuccessful as calls to his mobile phone rang out without a response, but a senior officer at the state police command headquarters who does not want his name mentioned, confirmed Sodipo's re-arrest.
[/vc_column_text][/vc_column][/vc_row]