[vc_row][vc_column][vc_column_text]
For Felix Ayetuoma, aged 63, his joy overflowed when his wife was delivered of a baby boy in 1988. It was a prayer answered as having a male child had been for him, a daily supplication. In appreciation of God's grace, he christened the new baby, Oghenemaro, meaning God is the biggest, in his native Urhobo language.
 Ayetuoma toiled daily to provide his son the best he could afford and nurtured him on the path of righteousness with the hope that as a special gift from God, his son would grow to become a role model to his peers and perhaps, be a soldier of Christ.
Though his hope flickered as Oghenemaro transformed to adulthood, he did not envisage his son would someday become an agent of the devil and an albatross on his neck. He was wrong.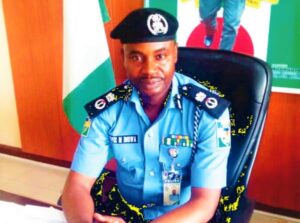 On Tuesday, July 7, Ayetuoma had a horrific experience that will remain indelible in his memory. He came face to face with harbingers of death, a gang of vicious armed robbers who were set to snuff life out of him if he failed to surrender his life savings.
After savouring a cool evening breeze on the ill-fated day within the precinct of his residence behind the AP filling station in Kwale, Ndokwa West Local Government Area of Delta State, Ayetuoma walked into his living room and crashed on a couch.
He was lost in a reverie of business prospects while awaiting the return of his son, Oghenemaro, aged 32, who had gone to a shop not far away to buy recharge cards. At about 9.30pm, he was jolted by a bang on the entrance door to his apartment.
Then, about five armed men burst in with a gun pointed at him in company with his son, who told him he was on his way back after purchasing the recharge cards when he was accosted by the armed men who led him home at gun point.
The suspects dispossessed him of his mobile phones, car key and Automated Teller Machine card, which they forced him to disclose the pin number to enable them use it for cash withdrawals. To ensure the pin provided them for the ATM card was genuine, they abducted and took him to a Zenith bank ATM point to make withdrawals.
Following a distress call, a police patrol team reportedly tracked them to the bank, but the robbers were said to have fled on sighting the cops, who however, rescued the victim.
Back home, Ayetuoma was blank and couldn't fathom the circumstances surrounding the incident six weeks after. But the police eventually puzzled out the perpetrators and made a shocking find.
On Sunday, August 23, police detectives picked up three suspects who allegedly participated in the robbery. They included Oghenemaro and two of his friends identified as Matthew Onwusah, aged 28, and 26-year-old Obah Tochukwu, both of whom had allegedly confessed to the crime and revealed that Oghenemaro discovered his father had over N3miilion in his bank account and indeed, organized the robbery.
The police said a cut-to-size gun used for the arranged robbery was recovered from the three suspects who are in custody at the Criminal Investigation Department (SCID) of the Delta State police command where anti-robbery detectives are investigating the incident.
It was a stunning revelation for Ayetuoma, who, sources said, had since recoiled in self pity. Sad!
[/vc_column_text][/vc_column][/vc_row]