[vc_row][vc_column][vc_column_text]
The master-mind of a video clip which went viral on Saturday, October 3, alleging the killing of a youth in Ughelli, Delta State, by operatives of the Special Anti-Robbery Squad (SARS), has been arrested by the police.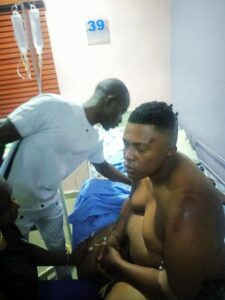 This followed the outcome of preliminary investigations on the incident by police authorities which indicated that the video was a sham, as no youth was shot to death by the police as alleged.
Onome Onovwakpoyeya, a Deputy Superintendent of Police (DSP) and spokesperson for the Delta State police command had on Monday, dismissed the alleged killing in Ughelli as claimed in the video as not only false, malicious and erroneous, but also misleading.
While emphasizing that the victim was neither shot nor killed by the policemen, she said "the allegation is the handiwork of criminally-minded people who do not see anything good in the police, but want Delta State to be in turmoil".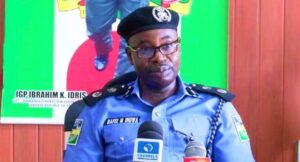 Consequently, operatives of Operation Safe Delta swung into action and unmasked the suspect, who was arrested at about 11.am on Monday at Ughelli, headquarters of Ughelli North Local Government Area of the state.
Scudnews learnt that the suspect identified as Prince Nicholas Makolomi, a prince of Ughelli kingdom, was picked up by operatives of Operation Safe Delta, and was immediately moved to the police command headquarters in Asaba, the state capital, for investigation.
Sources said Nicholas is being held and interrogated on his motive for posting a fake video on his Facebook page, alleging the killing of an unnamed young man in Ughelli by operatives of SARS on Saturday.
Reports said he has since admitted that there was no shooting incident as alleged, and the victim who was identified as Joshua Ambrose actually jumped off a moving police patrol vehicle upon his arrest in company with another suspect, Ovie Odafe.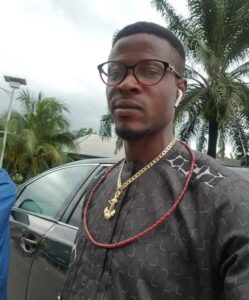 It was further learnt that Nicholas, who may face charges of spreading false information and mischief, had also confessed to have perpetrated the act in company with a councilor of an unnamed local government council in the state, who he simply identified as Ochuko. It could however not be confirmed at the time of filing this report if the police are on the trail of the local council official.
Meanwhile, the Assistant Inspector General of Police in charge of the Zone 5 police command, AIG Sholla David, and the Deputy Commissioner of Police (DCP) Operations, at the Delta State police command, DCP Olaleye Faleye, on Monday visited Lili Hospital, Warri, where Ambrose, the suspect who allegedly jumped off a police patrol van upon his arrest and sustained head and body injuries, is recuperating.
The AIG also reportedly paid a courtesy visit to HRM Dr Ojakovo Charisi 111, the Ovie of Ughelli kingdom while in Delta State, before returning to his base in Benin City, Edo State.
[/vc_column_text][/vc_column][/vc_row]