[vc_row][vc_column][vc_column_text]
A young man who was among four suspects allegedly arrested on Wednesday, October 7, at Asaba, Delta State, and moved to the Police Force Headquarters in Abuja by operatives of the Inspector General of Police Monitoring Team, has reportedly died in custody, Scudnews has learnt.
Impeccable sources said the deceased identified as Tuesday Okuah, who hailed from Evwreni community in Ughelli North Local Government Area of Delta State, was invited by the police to the state command headquarters alongside six other members of his community including the traditional ruler, HRM Oghenekevwe Kumane. Others invited by the police were James Asakpa, Ochuko Kumane, Kelly Omojugheri, K.K.Kumane, and Stephen Atiri.
It was further learnt that the seven persons were invited by operatives of the IGP Monitoring Unit to Asaba over a protracted communal crises which resulted in a series of petitions and counter petitions by members of Evwreni community in the aftermath of an alleged assassination attempt on a former Executive Director (Projects) of the Niger Delta Development Commission (NDDC), Samuel Adjogbe, who also hails from the community.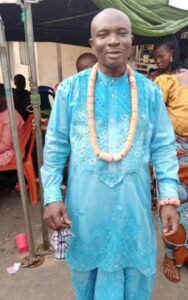 Sources hinted Scudnews that when the seven persons eventually honoured the police invitation on Wednesday, October 7, four of them, including Ochuko Kumane, Kelly Omojugheri, Stephen Atiri, and Tuesday Okuah, were eventually arrested and moved to the Police Force Headquarters in Abuja, where they were held in an unspecified detention facility for continuation of investigation.
It was however alleged that on the night of Friday, October 9, Stephen Atiri and Tuesday Okuah were taken out of the cell for "investigation activities", by operatives of the IGP Monitoring Unit, but the duo were not returned to their cell until news filtered out that Okuah, a leader of the vigilante group in Evwreni community, had died.
Unconfirmed reports said the police claimed Okuah committed suicide; that he allegedly died after he got his neck stuck in a window burglar proof. But his family and a section of his community have cried foul, alleging that he was tortured to death by the police in the course of interrogation.
The incident, Scudnews learnt, reportedly had triggered tension in Evwreni kingdom as the youths had, upon getting wind of the development,  mobilized for violent protest at about 4.pm on Saturday, October 10, but for timely intervention of police patrol teams from the "A" Division in Ughelli, who were said to have been swiftly drafted to the community. It was however gathered that uneasy calm pervades the community.
Efforts made at reaching either the Police Force Public Relations Officer, DCP Frank Mba or the officer in charge (O/C) IGP Monitoring Unit, ACP Ellemam, for comments on the incident were unsuccessful as repeated calls to their mobile phones did not connect. There was also no response to an SMS sent to the FPRO requesting his response to the incident as of the time of filing this report.
However, when Scudnews eventually contacted the Deputy Force Public Relations Officer, CSP Aremu Adeniran on the issue, he requested for a text on details of the incident to enable him find out from the appropriate quarters and revert, which was sent to him. But he had yet to respond as of the time of filing this report at 7.13pm on Saturday.
[/vc_column_text][/vc_column][/vc_row]