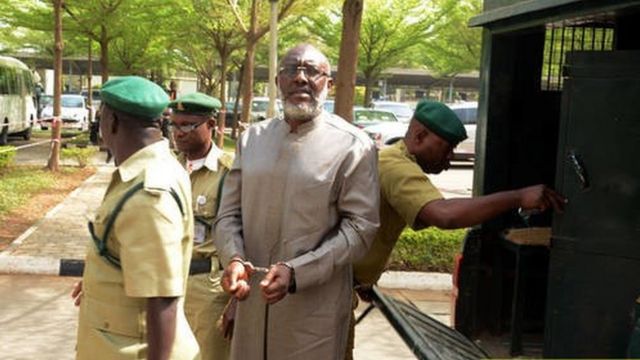 Appeal court nullifies 7-year jail term sentence handed down to former PDP Spokesperson Olisa Metuh.
The court held that the Federal High Court exhibited bias in the case by pronouncing him guilty on all counts of money laundering and sentencing him to prison for seven years.
The ruling holds that a fresh trial should be commenced.
Recall that Metuh was sentenced in February this year when the trial judge, Justice Okon Abang in the Federal High Court in Abuja, found him guilty of money laundering in the sum of N400 million.
The suit was instituted against him by the Economic and Financial Crimes Commission (EFCC).
The anti-graft agency charged Metuh, alongside his company, Destra investment, with seven counts bordering on criminal diversion of the money received from the office of the former National Security Adviser (NSA), Colonel Sambo Dasuki (rtd).
Delivering judgement in the case, Justice Abang convicted the former PDP spokesman of Count One of the charges adding that "It is my view that Metuh took possession of the N400 million from the office of the NSA without contractual agreement; he is guilty of money laundering and is hereby convicted on Count One".
According to the judge, the evidence before him shows that the money was used to fund activities of the PDP adding that Metuh also used the money to acquire a property at Banana Island in Lagos.
Justice Abang insisted that the evidence pointed to the fact that the money was deliberately laundered to brighten the chances of the PDP during the general elections in 2015.
"It is, therefore, manifestly clear that the defendant converted the money for PDP campaign activities and I find him guilty and is hereby convicted accordingly".
Justice Abang held, "The first defendant was desirous of repositioning the PDP and he deployed the funds for that purpose and personal use".
He had noted that the meeting wherein former President Jonathan allegedly authorised the payment was tagged a 'security meeting' and wondered why only the former NSA and top officials of the PDP attended the meeting, yet Metuh claimed the money was disbursed for special national assignment, stressing that the first defendant was not a witness of truth.
A three-man panel of the court of appeal, led by Justice Stephen Adah in a unanimous judgment held that the proceedings of the Federal High Court leading to the conviction of Metuh and his company, Destra Investment Limited, were tainted with bias and therefore must not be allowed to stand.
Justice Adah who delivered the lead judgment on Wednesday, held that the utterances of the trial judge, Justice Okon Abang, in the course of the trial, established that he was biased against the convicts.