[vc_row][vc_column][vc_column_text]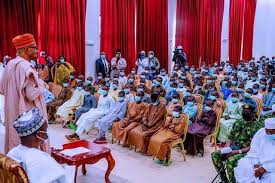 The abducted students gained their freedom on Thursday in Zamfara state and were later transported to Katsina where they were handed over to Governor Masari, Friday morning.
Commandant of the 17th Brigade, Nigerian Army, Brigadier-General WB Idris, led security men to receive the boys whom were later handed to the state government in seven buses accompanied by stern-looking policemen.
The Coordinator, Defence Media Operations, Major-General John Enenche, had said in a statement on Friday in Abuja that "the students were rescued on the heels of credible intelligence by the gallant troops, with high degree of professionalism to ensure they were all rescued alive. The Military High Command commends troops of Operation Hadarin Daji including all security agencies for their dexterity. The members of general public who volunteered information are also appreciated".
The students in their narratives had said shortly after their abduction on Friday December 11, they were first divided into batches before being led away through thorny bushes, walking in the cold night for several hours.
They added that those of them who could not keep pace with the rest were beaten up as the bandits kept firing shot in the air to scare them against making attempts to escape.
One of the students, Farouq Aminu said he felt sick as they were forced to walk throughout the night.
"I am not feeling well now because of my terrible experience. Our abductors forced us to walk throughout the night, and they flogged those of us who could not keep pace with the others. They also fed us with Donkali ( potatoes) and cassava but the feeding was not every day while some of us were able to get some fruits to eat. I did not hear that anybody died among us. I thank God for coming back home. After our rescue, we were first taken to somewhere in Zamfara state before we were taken to Tsafe and eventually brought to Katsina".
According to Yusuf Suleiman an SS1 student, the bandits took advantage of the poor security system in the school.
"I thank God for bringing us back home. The bandits took advantage of the weak security in our school. I will want my parents to seek my transfer to another school. I did not see any of us who died while we were in the bush but I can also speak for my group as they divided us into batches when we were moved to the forest".
In his own account, Abubakar Sodiq said, "the bandits exposed us to very dehumanising conditions. Our ordeals began right from the night we were abducted from school. They kept on shooting into the air to scare us and to warn us against making any attempt to escape. They gave us food when they felt like and allowed us to drink very dirty water and this made some of us to fall sick but they still recovered without being attended to. As I am talking to you, I am not feeling well and I want to go home".
Abdulmajid Umar In his own account, said, "the location of our school made us vulnerable. When the bandits came, the policemen could do little or nothing because of their large numbers and the weapons they were carrying. Let us just thank God that the government has rescued us. I will not be surprised if many of us will seek transfer to another school when schools resume. But we thank the government for our rescue".
Some of the parents of the rescued students have also expressed their joy at being reunited with their children as One of the parents, Mallam Aminu Dayyabu said the days that his 12 year old son, Farouq spent in the den of the bandits were the most traumatic in his life and according to him, "the horror of waiting endlessly for an abducted or missing child really affected my family throughout the seven days of waiting and harbouring the fears of what could have happened to Farouq. It was therefore a big relief for us when we received a call at exactly 11 p.m on Thursday night, informing us that Farouq and the rest of the abducted students had been rescued and were due to arrive Katsina on Friday. Let me first show gratitude to Almighty Allah for the safe rescue of Farouq and his colleagues. I am also grateful to the state government as well as the federal government. It was a terrible experience for me and my entire household throughout the period that Farouq was abducted. Since last Friday when the students were abducted, I have been going to the school, hoping to hear the news concerning my son and other students. I am very happy on the rescue of the students but I will appeal to the governor to beef up security in the school and in the entire community".
Another parent, Hajiya Murjanatu Danja, mother to one of the boys, Hussaina Nasiru said she remained eternally grateful to God and the government for the students' release.
In her words, "I am happy over the rescue of the students. I thank God and will ever remain grateful to him for bringing Hussaina back safely. But let me see him first, then I will talk more. But I thank the state government for the rescue of the boys".
However, President Muhammadu Buhari who met with the freed 344 students on Friday evening in Katsina, has urged them to put their abduction behind them and focus on their studies.
The President who met the students at Government house, Katsina and addressed them in Hausa Language, said, "you're lucky, your school focuses on the sciences, and sciences are part of modernisation, which allows you to secure good jobs. The future is not for those that read English language or History, but for those that read the sciences. I hope you will forget what happened to you and focus on your education instead".[/vc_column_text][/vc_column][/vc_row]