[vc_row][vc_column][vc_column_text]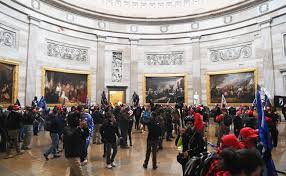 Protesters Backing President Trump, Today January 6, 2021 Breached the U.S Capitol, Forcing a Delay in Constitutional Process to Affirm Biden win.
According to Associated press, a large crowd of Trump supporters staged a protest, breaching the Capitol Hill and forcing lawmakers to evacuate.
One person was reportedly shot at the U.S Capitol amid the melee with Trump supporters.
The exact circumstances surrounding the shooting were unclear, and the person's condition is not known.
Representative Lucille Roybal-Allard a Democrat representing California's 40th Congressional District who was at the congress has said in her tweet that, indeed "It's a tragic day in American history as we see Trump-supporting domestic terrorists surround & breach the Capitol building".
she added that "My staff & I are secured & safe thanks to the courageous actions of the Capitol Police", and that she is "Praying for the safety of everybody & the very soul of our nation".
Meanwhile, according to CNN reports, President Trump is being urged by aides to put out a stronger statement in response to the chaos unfolding on Capitol Hill after his supporters breached security barriers. He has so far declined, beyond his latest tweet, as he is watching coverage from the West Wing.
Trump has declined asking the protesters to disperse but instead urged them to "remain peaceful" while Vice President Mike Pence went further, calling on protesters to "leave the Capitol immediately".
Trump had lost the November election to Democrat Joe Biden but has since refused to concede and has worked over the last two months to convince his supporters that widespread voter fraud prevented his own victory.
 [/vc_column_text][/vc_column][/vc_row]