[vc_row][vc_column][vc_column_text]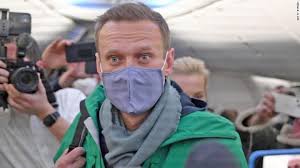 The United States (U.S) has "strongly" condemned Sunday's arrest and detention of Russian dissident Aleksey Navalny in Moscow.
In a statement, U.S Secretary of State, Mr Michael Pompeo, suggested that Navalny's arrest was a demonstration of President Vladimir Putin's lack of confidence.
Pompeo added that the Kremlin's action was the latest in a series of efforts to silence Navalny and other opposition figures in Russian.
The secretary of state demanded the "immediate and unconditional release" of the 44-year-old activist.
"We note with grave concern that his detention is the latest in a series of attempts to silence Navalny and other opposition figures and independent voices who are critical of Russian authorities. Confident political leaders do not fear competing voices, nor commit violence against or wrongfully detain political opponents. The Russian people, like people everywhere, deserve a government that supports an open marketplace of ideas, transparent and accountable governance, an independent judiciary, and the ability to exercise their basic human rights of speech and assembly without fear of retribution. We urge the Russian government to provide a level playing field for all political parties and candidates seeking to compete in the electoral process. Aleksey Navalny is not the problem".
According to reports, Navalny, a strident critic of Putin, was arrested at the airport upon arrival from Germany, where he was hospitalised after a nerve agent attack in August.
He is accused of violating conditions of a suspended sentence after a conviction for embezzlement, a case he dismisses as politically motivated.
In August, he was on a plane from Siberia to Moscow when he collapsed, and was flown to Germany two days later for specialised treatment.
He blames the Russia government for the alleged attempt to kill him, but the Kremlin denies any involvement.
The European Union, France, Italy, and the incoming U.S National Security Adviser, Jake Sullivan, have also called for the immediate release of Navalny.
In a statement, Sullivan described the "Kremlin's attacks on Navalny" as a human rights violation and an "affront to the Russian people who want their voices heard".[/vc_column_text][/vc_column][/vc_row]