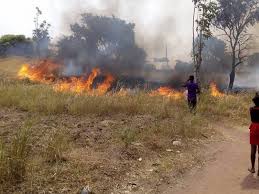 The National Emergency Management Agency (NEMA) has warned against bush burning and other acts capable of causing fire disaster during the dry season.
The NEMA Director-General, Retired AVM Mohammed Mohammed, gave the warning during a stakeholders' meeting on fire sensitisation and awareness campaign on Wednesday in Osogbo.
Represented by Mr. Segun Afolayan, NEMA head of operations for Ekiti, Ondo and Osun, Mohammed said the negative effects of fire disaster during dry season could not be ignored given its reoccurrence and the attendant loss of lives and property.
The NEMA boss said the essence of the meeting was to activate the mechanism of preparedness in order to avert fire disasters in the dry seasons.
He said the workshop would afford stakeholders opportunity to brainstorm and deliberate on major causes of fire and how best to prevent them by putting measures and checks in place.
Mohammed said if the preventive mechanism were strictly followed, the incidence of fire disasters in the dry seasons would be averted.
He also advised market women and men to insure their products with Insurance companies as a back-up in case of fire disaster.
"We want to implore market men and market women to procure fire extinguishers in their shops and warehouses among other places incase of fire incidence. On the part of farmers association, it is advised that dry weeds are cleared few metres way from plantations and the act of setting bush on fire should be discouraged," Mohammed said.
In his remarks, Mr Tajudeen Adabanija, the General Manager of Osun State Emergency Management Agency (OSEMA) commended NEMA for organising the workshop.
Adabanija urged all stakeholders in disaster management to collectively work towards ensuring that fire disasters were put under check, especially during the dry seasons .
Officers of the Nigeria Police Force, Market Women and Men, the Media and other key stakeholders alike, attended the workshop.