[vc_row][vc_column][vc_column_text]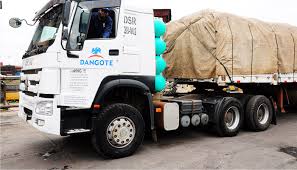 A truck belonging to Dangote Cement Plc was reportedly hijacked by yet-to-be-identified armed men in Edo State on Tuesday, while in transit with 900 bags of cement.
The incident occurred at Afuda Quarters along Agbor-Uromi road, according to two conductors on board the truck, Ibrahim Usman and Awalo Abubakar, who reported the hijack to the police on January 26.
They said the armed men emerged from a bush while the truck bearing registration number MPA 219 XA was in transit loaded with 900 bags of cement and diverted it.
The whereabouts of the truck driver was unclear at the time of this report, but four other conductors aboard the truck whose names had yet to be ascertained, were reported missing after scampering into the bush to save their lives.
The police said an investigation into the incident has commenced at the Criminal Investigation Department (SCID) of the Edo State police command and detectives were making efforts to rescue the missing victims.
Confirming the incident, an official of Dangote Cement Plc who craved anonymity, said hijack of fully loaded trucks in transit conveying bags of cement has become a recurring decimal in recent times.
"Yes it is true, the incident happened. We have been having cases of hijack of trucks loaded with cement while in transit, but we are trying to do something to stem the tide", he told Scudnews on Wednesday.[/vc_column_text][/vc_column][/vc_row]