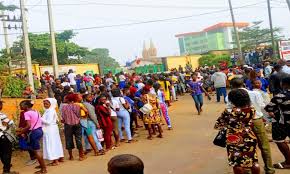 Some residents of Badagry in Lagos on Tuesday appealed to the Federal Government to further extend the February 9 deadline for the registration of National Identification Number (NIN).
The National Communication Commission had directed that people in the country should link their SIM numbers to their NIN as a security measure to checkmate the rising spate of kidnapping and other criminal activities.
The residents, while speaking to the News Agency of Nigeria at the NIN Registration Centre in Badagry, said that the February 9 deadline was inadequate time to register all the people in the border community.
Mrs Seweka Avoseh, a 63-year-old woman, said she had been coming to the NIN office since Friday, January 22 without succeeding in her quest to register.
"I came here on Fridaybbut nothing was done through out and I was requested to return on Monday.. Today, I have come as early as 6a.m but as you can see nothing is happening. They have called some people and my name is not among. I closed my shop at the market to come and register but I have not been able to do so. I will appeal to government to extend the deadline because majority of Nigerians have not registered. My business is suffering and I cannot attend to my responsibility at home," she said.
Also speaking Mr Setonji Olusegun, a resident of Oko-Afo, Badagry, lamented the long queue of people at the National Identification Management Commission (NIMC) office at the Badagry Secretariat.
"I came down from Oko-Afo as early as 5a.m and still met a lot of people on queue, it is so unfortunate that we found ourselves in this mess. Honestly, if the Federal Government had not mandated the National Communication Commission (NCC) to block Nigerians' phone numbers, we would not have bothered," he said.
Olusegun said the registration of people at the NIMC in Badagry was very slow because they did not have equipment.
" The centre has only one system to register the people, print the tracking and the NIN. How effective do you want them to perform without having enough equipment for registration?" he asked rhetorically.
Activities at NIMC office in Badagry shows that over 300 residents had besieged the centre as early as 6a.m hoping to obtain their NIN.
An officials of the NIMC called out the names of people who had been given appointment to register for the day and then added few other names of people who arrived early in the day to the list.
One of the NIMC officials, who did not want his name mentioned, said the centre registers a hundred applicants daily.
"We register a minimum of 100 persons everyday, and everyday new sets of persons appear here to get an appointment for registration. We have appointments till April 25 and it keeps pushing on and on with no view of ending in sight. I believe we would do more in Badagry center if we have more registration systems on ground here," he said.