[vc_row][vc_column][vc_column_text]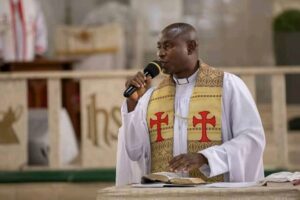 A cleric, Reverend Canon Michael Olorundare, on Sunday charged Christians to shun all forms of evil deeds and embrace God in their daily living for a progressive society.
Olorundare was speaking at the All Saints' Church, Diocese of Lagos West, (Anglican Communion) on the theme : "Healing of Men and the Nation".
He made references to the Books of Isaiah 61, verse 1-4, 7, 8, and 2nd Chronicles 7 verse 14-15, to describe the act of sin as being instrumental to the predicaments in the land.
He said it was time that the people lived a life that would conform to God's way for the Holy Spirit to deliver them from unpalatable situations, hardships and the COVID-19 pandemic.
"There are lots of evil happenings everywhere. Even globally, there are several forms of robberies here and there, injustice, wickedness and cheating, against what God said and instructed. No doubt we need God's intervention in other to bring total freedom to the people over the unpleasant situations they are facing. So as images of God, we must turn from evil, love justice, hate robbery as he clearly stated in Isaiah, and also act in accordance with what he stated in 2nd Chronicles."
The cleric said that people had abandoned, forsaken and gone against God, adding that individually and collectively, man had sinned against God and must repent and turn back to their creator.
He emphasised that the people could only enjoy complete and lasting covenant in life with God when they lived a life free of sin and do what is pleasing to God in their daily living.
"The promises, blessings of God will manifest and be fulfilled in our lives if we run away from sin because we need to be in covenant with God to run through 2021 and finish well. I pray for the grace to serve and worship God in spirit and truth. When you receive God, he will wipe away the pandemic from our nation and heal our land," he said.
The priest advised the worshippers to continue to observe the COVID-19 precautionary measures in their daily movements and activities, taking cognisance of government's order on wearing of facemask.
It was observed that members of the church were subjected to temperature check and hand wash, while the parish guild of stewards ensured that members wore their facemasks.[/vc_column_text][/vc_column][/vc_row]