[vc_row][vc_column][vc_column_text]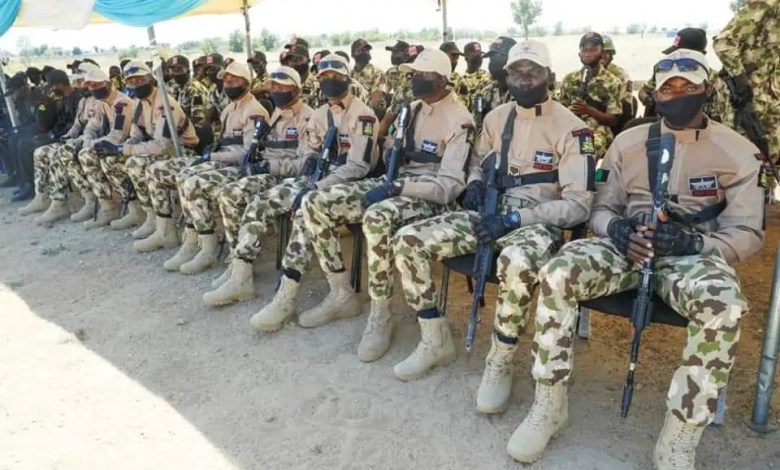 The Nigeria Air Force has inaugurated another batch of 203 Special Forces (SF) and Integrated Combat Operations (ICO) personnel to boost security operations of the country.
Air Vice Marshal Idi Amin, the Air Officer Commanding Ground Training Command (AOC GTC) while inaugurating the course on Tuesday in Bauchi said the training was another NAF's leadership effort to boost capacity of its personnel.
He said the inauguration comprised a combined inauguration ceremony of Special Forces Course 8/2021 and the Nigerian Intelligence Agency (NIA) Integrated Combat Operations Course 1/2021 in Bauchi.
Amin explained that the objective of the Special Forces Course was to train personnel of the Nigerian air force to conduct special operations in adverse conditions within denied and semi permissive environments.
"They shall be subjected to intense training which will cover physical fitness, weapon handling, unarmed combat, special tactics, repelling among other focused areas. Indeed, the training will be gruelling and only the fittest normally succeeds at the end. Such training is required, given the complex nature of our nation's contemporary security threats," he said.
According to him, the Nigerian air force has continued to synergise not only with other services of the Armed Forces but also with other security agencies in order to operate more effectively and defeat our threats.
"It is therefore, delightful that the National Intelligence Agency found it worthy to send its operatives to the RTC Annex Bauchi for the Integrated Combat Operations Course. It is anticipated that this course will serve as a platform for more collaboration between the NIA and the NAF toward enhancing national security," Amin said.
He emphasised that the purpose of the course was to introduce the operatives to the Specialised Tactics, Techniques and Procedures of our Special Forces to enable them operate better together in the field.
"I wish to acknowledge the support of the NAF leadership for consideration and sense of purpose toward improving the welfare and competencies of all NAF personnel. This is particularly most important considering the myriad of asymmetric security threats facing us as a nation today. To resolve these threats, the armed forces and indeed the Nigerian air force came up with some pragmatic approaches," he said.
Amin commended the President and Commander-in-Chief of the Armed Forces, President Muhammadu Buhari for the priority attention given to the training, operational and other requirements of NAF.
"The support provided by the Federal Government has no doubt, positively impacted on the Nigerian air force especially in the areas of training, enhanced operational efficiency and improved provision of welfare and other services. We assure the President of our unalloyed loyalty and reiterate our commitment to continue to support the Federal Government in its policy thrust of providing security, improved economy and fighting corruption in our dear country," Amin said.
Earlier, Wing Commander, Khiende Akinyosade the Commandant Regiment training center Annex Bauchi, said that 514 NAF personnel were nominated for the special forces course.
"During the selection screening, 254 were reported to be medically unfit ,5 failed physical examinations, 61 did not report, 24 voluntarily quit and 4 were withdrawn on medical grounds. Therefore, 164, Nigerian air force personnel comprising 7 officers,156 airmen and one airwoman as well as 39 NIA staff comprising 35 male and 4 female counter terror operatives were inaugurated," he said.[/vc_column_text][/vc_column][/vc_row]