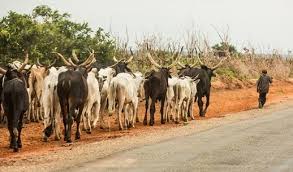 Nigerians from Yewa axis of Ogun State have fled to neighbouring Benin Republic to seek refuge due to incessant herdsmen attacks on the community as seen in an online video.
In the video which was released during the weekend by a traditional ruler from Yewa land, officials of Benin Republic were seen addressing the people.
According to the video, one of the displaced persons was seen narrating their ordeals to the officials through the aid of an interpreter as the officials could hardly understand English Language.
The Nigerian, who spoke in English narrated how they were "forcefully migrated" to Benin Republic as a result of the herdsmen crisis.
Asked, the young man explained that many have been killed in Agbon Ojodu and other communities, saying many are still migrating.
"It is because of the Fulani people. They are killing the people anyhow, moving from one place to another. They just kill. That is why the people are scared and they moved here," he said.
In the over three minutes video, the woman, who led the Benin Republic officials could be seen asking the man to do a census of the displaced persons by documenting the names of women, children and others.
Following the incessant attacks on some communities in Yewa North and Imeko Afon by those suspected to be Fulani herdsmen, scores of Ogun residents were said to have relocated to the French-speaking Benin Republic to seek refug
Recall that the Ogun State Government had on different occasions said no indigene of Ogun State was a refugee in Benin Republic, even when the Red Cross of Nigeria confirmed mass relocation of Yewa residents to the country.